How to Set Up uTorrent WebUI - Control uTorrent Via Web Browser
uTorrent is one of the popular bittorrent client. The best feature of uTorrent is it is a very small bittorrent client but contains most of the features in other bittorrent client. One of the best feature is WebUI (web-based user interface). In this post, you will find out on how to set up your uTorrent installation to enable the WebUI interface and let you control your uTorrent via web browser from anywhere. This feature is very useful if you need to control your uTorrent when you're not at home, or control your uTorrent if you don't like to use Windows's Remote Desktop Connection or VNC for your server.
Setting Up uTorrent WebUI
1. In this post, I will use the latest uTorrent 1.9 alpha 14659 and uTorrent WebUI v0.361. You can download the uTorrent 1.9 alpha here and WebUI here. Please take note that the alpha (and beta) version of uTorrent is not suitable for general use and may contains instability issues. You can always use the stable version of uTorrent.
2. Download and install uTorrent. Download uTorrent WebUI. Your WebUI file name will be something like webui.
.zip. Rename the WebUI file to webui.zip.
3. There is 2 method to install uTorrent WebUI, depending on where your uTorrent's SETTINGS.DAT file is stored.
3.1. If you've installed uTorrent using the normal method (your uTorrent is installed to C:\Program Files\uTorrent) then your SETTINGS.DAT will be in %appdata%\uTorrent folder (usually in C:\Documents and Settings\
\Application Data\uTorrent). Go to Run > type %appdata%\uTorrent and click 'OK'. Copy WebUI.zip into the directory where uTorrent's SETTINGS.DAT is stored.
3.2. If you are running uTorrent in portable mode, the SETTINGS.DAT file will be in uTorrent.exe folder. Just copy WebUI.zip to the folder that contains uTorrent.exe and SETTINGS.DAT.
4. The next step is to enable the WebUI in uTorrent. Open uTorrent, click 'Options' > 'Preferences'. Navigates to 'WebUI' (1). Tick 'Enable WebUI' (2) to enable the WebUI in uTorrent. Enter the username and password for WebUI (3). This authentication info will be use when you logged in to your uTorrent WebUI and prevent unauthorized access. You can also create a guest account (4) for your uTorrent WebUI. Guest account can only see the download and seeding progress, and don't have the access to control your uTorrent. If you are using randomized listening port for your uTorrent (5), you will need to use an alternate listening port (6) for uTorrent WebUI since uTorrent will use a new random port each time uTorrent is started. Enter any port that haven't been used by other program. The default 8080 should be safe. Read step 5 for more info.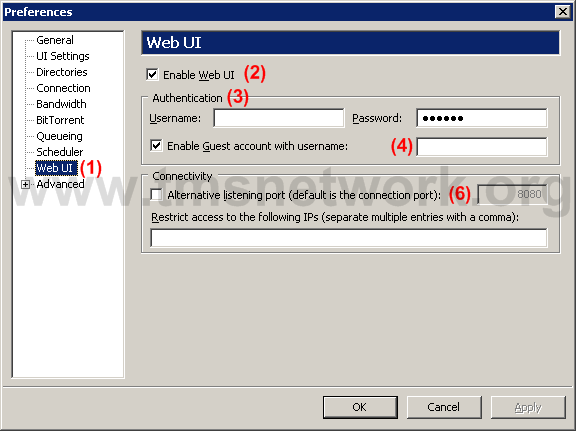 5. To connect to your uTorrent WebUI, the address that you need to enter to your web browser is http://
:
/gui/. For example, http://202.188.0.133:7777/gui/ (202.188.0.133 is your public Internet IP address, 7777 is the listening port for your uTorrent). If you use alternate port for WebUI (for example 8080), your uTorrent WebUI address will be http://202.188.0.133:8080/gui/.
6. If you are behind firewall or router, you need to port forward your WebUI port in order to be able to access uTorrent WebUI (uTorrent listening port if you don't use the randomize port option, or alternate WebUI port). Refer to your router/firewall documentation in order to do this.
7. Remembering your IP address will be hard especilly if you have a dynamic IP address. To make things easier, you can set a hostname for your computer. There are free dynamic dns services available so you can automatically give your IP address a hostname. You can try No-IP.com. For example, you've created a hostname whiztech.myftp.org for your IP address using No-IP.com service. You can access your WebUI using the address http://whiztech.myftp.org:7777/gui/ (considering 7777 is your uTorrent listening port or the alternate port for WebUI). You can refer to my previous post, How to Share Files Using FTP on how to give your IP address a hostname.
8. Some screenshots of uTorrent WebUI (I've resized the browser window to fit this post):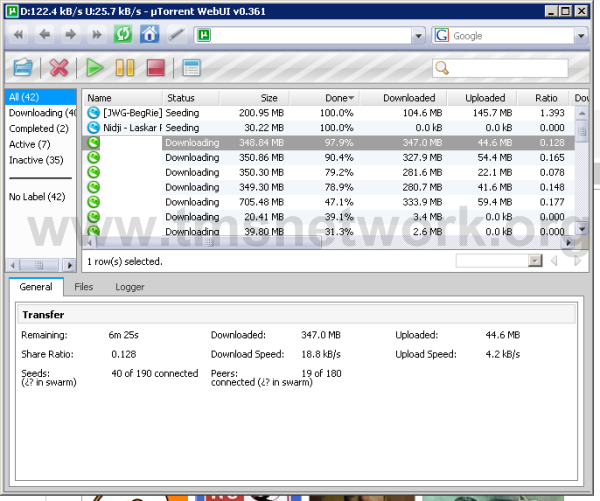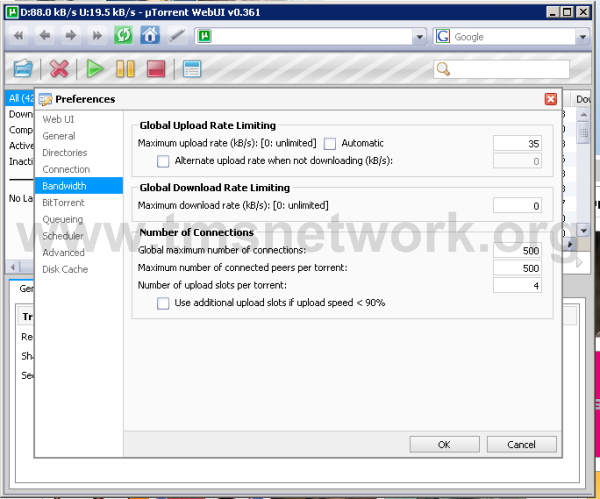 I hope you will find this post useful, especially for uTorrent users. Do you use uTorrent WebUI?
uTorrent
uTorrent Beta and Alpha
uTorrent WebUI Forum